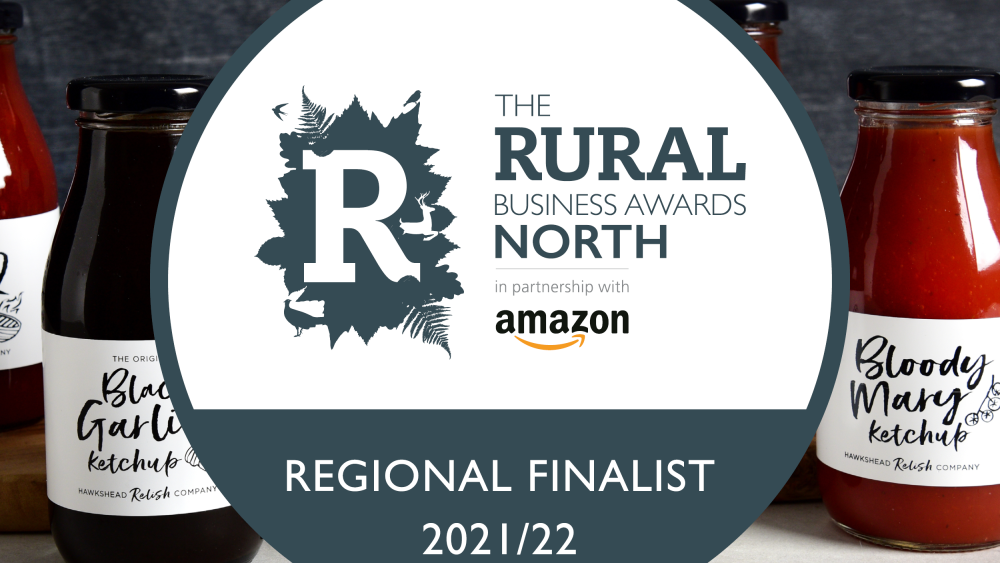 Relish shortlisted as regional finalists in leading countryside awards…
Cumbria's Hawkshead Relish have been shortlisted as a regional finalist in the Best Rural Food & Drink Business category in the north region of the 2021/22 Rural Business Awards.
Hawkshead Relish will now battle it out against fellow rural businesses, entrepreneurs and enterprises from across the region for a place at the national final, including The Lost Barn Coffee Roasters, Cheshire and Shed 1 Gin, Ulverston, Cumbria.
The northern regional final will be held virtually on Friday 01st October 2021, with the National Final taking place early next year.
The Rural Business Awards 2021/2022, in partnership with Amazon, will mark the Awards' seventh year of celebrating the success of businesses across the UK's rural economy. The Awards are organised by rural business for rural business with the aim of celebrating the achievements of rural businesses and developing a strong network for rural business owners.
Speaking after being shortlisted for an award, Maria Whitehead co-owner of Hawkshead Relish said: ''We are hugely proud of where we live and of what we do. As a rural business we care passionately about supporting our local economy which in turn benefits the wider rural economy and creates valuable jobs across many sectors.
Director and Co-Founder of The Rural Business Awards, Jemma Clifford, added: "We are excited to celebrate the 2021/2022 awards after such a challenging year for businesses. We are passionate about creating a nurturing environment where rural businesses can develop, and this starts by showcasing the great work they do. On behalf of everyone at the Rural Business Awards, we want to say well done to Hawkshead Relish and wish them luck ahead of the regional finals."
The Rural Business Awards is the brainchild of Leicestershire businesswomen Anna Price and Jemma Clifford, who wanted to showcase the wealth of entrepreneurial talent in rural areas of Britain.
The Awards are organised by rural business for rural business, with winners in the 13 categories - ranging from Best Rural Start-up and Best Rural Diversification Project; through to Best Rural Professional Services Business and Best Rural Innovation - decided by an independent panel of judges drawn from the rural business sector, rural public sector agencies, and rural charitable organisations.
The Rural Business Awards is hosting a series of regional finals in the North, East, Midlands, South West, Wales and Northern Ireland, throughout October 2021, ahead of the National Final being held in February 2022.
24th June 2021

Ellie Meredith