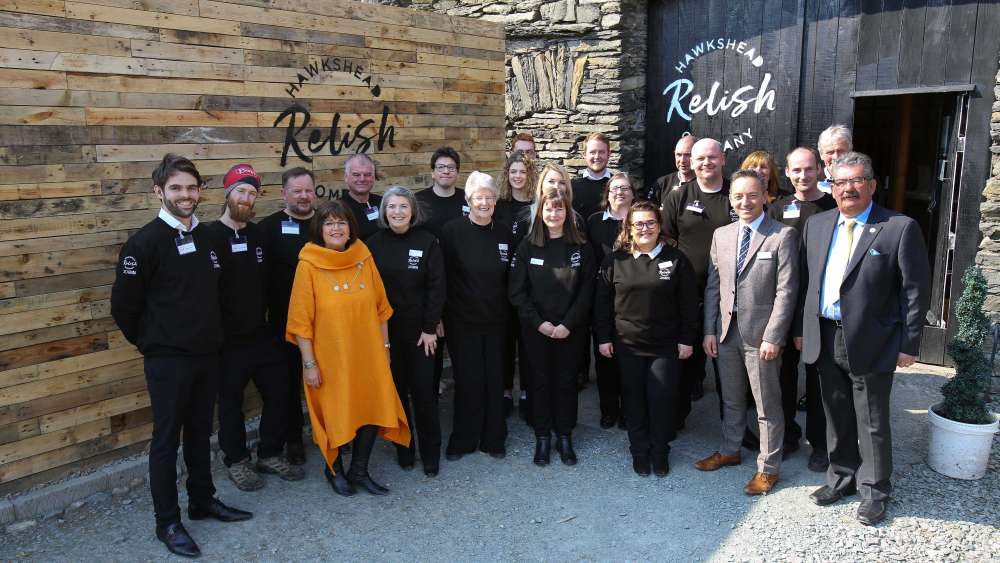 Relish shortlisted as regional finalists in leading countryside awards…
The awards are an annual celebration of British food and farming, enterprise and heritage. Now in their fifteenth year the awards they have become a must win award for rural businesses. Unlike other award schemes the Countryside Alliance awards are voted for by the public nomination, which offers customers the opportunity to tell the award judges why their favourite businesses are worthy of national recognition.
Each year nominees are judged on a range of criteria, including their passion and commitment, sense of community, championing local food and the energy and diversity of their business.
Over 17,000 nominations were received this year, with Hawkshead Relish among the successful nominees, which is no surprise considering that over the last 20 years the company has gone from strength to strength. They now export to 12 countries around the globe, retail to over 500 specialist outlets across the UK, make products for a number of leading food businesses and chefs, as well as make a valuable and significant contribution to Cumbria's rural economy.
The esteemed panel of judges counts amongst its ranks MasterChef judge, author and journalist William Sitwell, Farmers Guardian Head of Content Emma Penny, Telegraph Assistant Editor Phillip Johnston and food hero and farmer Peter Gott from Sillfield Farm.
Once all of the English regional finalists have been announced a further round of judging will take place during the spring to decide the regional champions, with the winners being announced in May. Followed by a final round of judging to decide the National Champions, with the winners being announced at a reception to be held at the House of Lords on the 10th June 2020.
Countryside Alliance Awards Director Sarah Lee commented: ''We have been overwhelmed by the nominations we have received this year. The secret to the Rural Oscar's popularity is that they honour the people involved in these businesses and not their produce or services. They exist to sing the praises of those who work hard to keep our communities and rural economy ticking , but don't seek the spotlight. These awards provide a cause for celebration in a time of great uncertainty in the countryside. Our local produce is second to none and there are many community heroes and businesses worthy of national recognition.''
Maria Whitehead co-owner and director of Hawkshead Relish commented: ''This recognition means a great deal to the team. As a rural business we are hugely proud of where we live and of what we do. Like so many rural businesses, we aren't just about creating jobs. There is much more to it than that. We aim to provide very real opportunities for our local communities we help to keep them strong and together, we help in some small way to prevent rural isolation through building strong associations and friendships in the work place and by being a very real part of where we live in all that we strive to undertake. For any rural business it's a two-way relationship, if a rural business supports its community, that community will in turn support it, and that is the secret of what makes Britain's rural businesses great.''
Editors Notes:
1/ For further information about Hawkshead Relish or about the Embellish With Relish cookbook visit: www.hawksheadrelish.com or to place an order call 015394 36614.
2/ For Information about The Countryside Alliance Awards visit: www.countryside-alliance.org/our-work/campaigns/caawards
3/ For press queries please contact Greg at Gundog PR by emailing info@gundogpr.co.uk or by calling 07825511896
27th January 2020

Izzy Whitehead