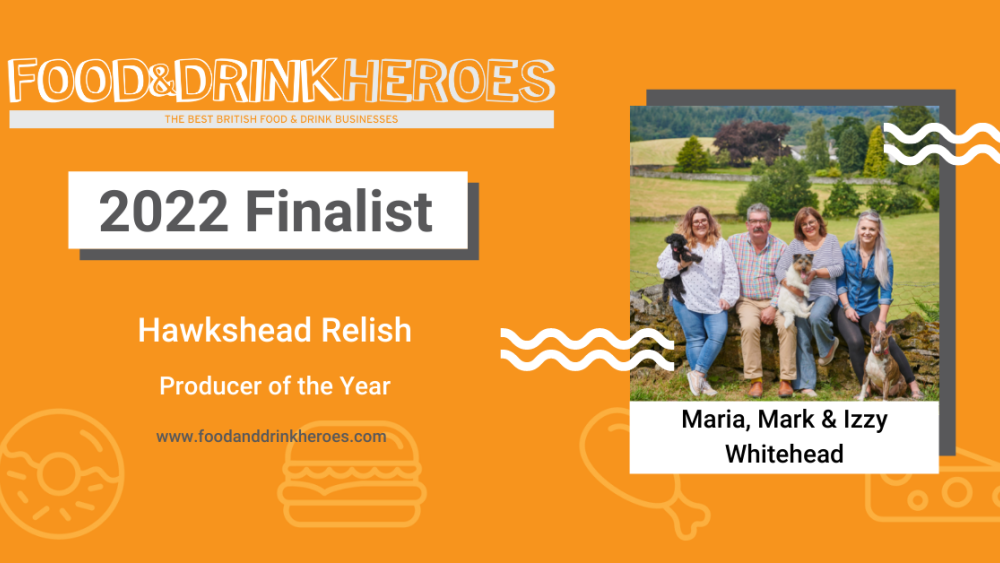 Hawkshead Relish shortlisted as finalists in the Food & Drink Heroes Awards
The team at Hawkshead Relish have just discovered that they have been shortlisted as finalists in the annual Food & Drink Heroes Awards, in the Producer of the Year category.
The awards, thought up by the team behind the Great British Entrepreneur Awards, saw 700 entries arrive this year. The shortlist has been drawn up and now the panel of judges made up of the likes of Anna Richey & Alla Ouvarova, Two Chicks, Jacob Thundil MBE, Cocofina, Adrian Boswell, Selfridges, John Stapleton, New Covent Garden Soup Company & Little Dish, Jon Wright, Innocent Drinks & Jam Jar Investments, and Sahar Hashemi OBE, Coffee Republic & Skinny Candy, have begun to individually assess each entry against ten criteria to decide who the overall winners in each category will be.
The Relish team will now have to wait to find out if they will be crowned category winners and where and when the glitzy awards celebration event will be held – with all being revealed in the coming weeks.
Francesca James, founder of Food and Drink Heroes, said: "The line-up of finalists is nothing short of impressive. I'm more than pleased to see even more entrepreneurs being given the chance to share their story. It'll be a tough task for the judges to select the winners from such an impressive list of talent, but I have no doubt that this year's finalists are some of the best businesses we've seen yet and will be recognised as such."
Maria Whitehead co-owner and director of Hawkshead Relish commented: ''As a small family run food business we are hugely proud of what we do. Being shortlisted for an award like this marks the efforts of every member of our team. Entrepreneurship is at the heart of all we do, but who would have thought a business started in a small café in Hawkshead in 1999 would make such an incredible journey. It goes to show what you can achieve when you put your mind to it. We would encourage anyone who has a business idea to explore the possibilities and see where it takes them.''
2nd February 2022

Ellie Meredith