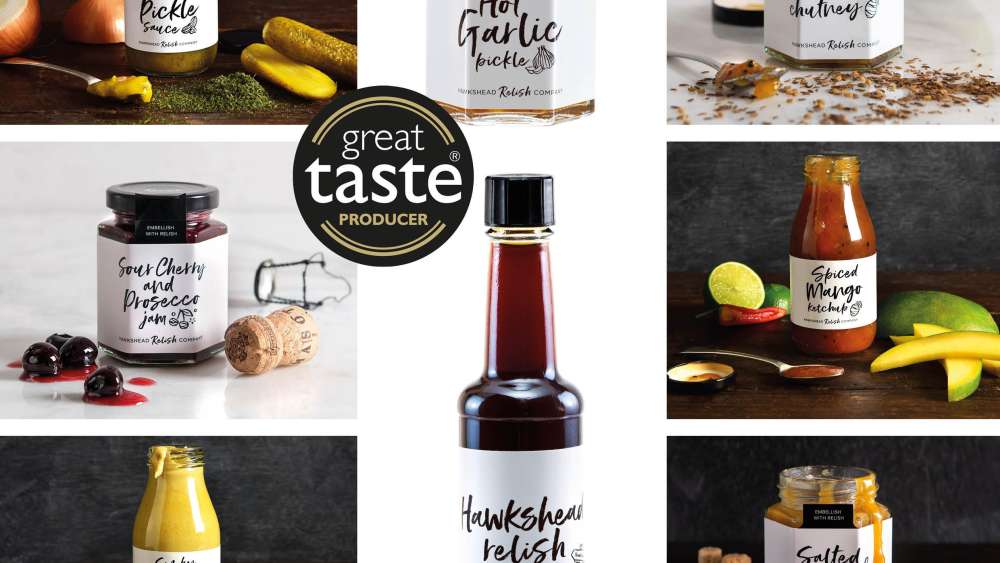 Hawkshead Relish Collects A Haul Of National Awards
Hawkshead Relish Collects A Haul Of National Awards
The results are in form this year's Guild of Fine Food Great Taste awards and Cumbria's Hawkshead Relish have continued with their winning ways collecting eight new awards from this year's judges.
Out of a total of 12,777 products sent in to be judged from 106 countries, Hawkshead Relish collected three 2-star Great Taste awards and alongside that they also collected five 1-star Great Taste awards, bringing their total tally up to 72 Great Taste awards won in recent years.
This year's award-winning products were:
Smoky Mustard Sauce – two stars
Spiced Mango Ketchup – two stars
Sour Cherry & Prosecco Jam – two stars
Salted Caramel Sauce – one star
Posh Pickle Sauce – one star
Mango Chutney – one star
Hot Garlic Pickle – one star
Hawkshead Relish Worcester Style Sauce – one star
Due to the Covid-19 pandemic judging was carried out a little differently this year, but as you would expect to the same rigorously high standards by utilising a combination of remote and socially distanced judging sessions. With no less than 144 judges taking part this year including the likes of cook, writer and champion of sustainable food, Melissa Hemsley, cook, writer, stylist and voice of modern vegetarian cooking, Anna Jones, celebrated Spanish chef, José Pizarro, Kavi Thakrar co-founder of Dishoom, food writer and cook, Xanthe Clay, and baker and author, Martha Collison, as well as some of the UK's leading food buyers from Selfridges, Fortnum & Mason and Waitrose.
Below are a selection of the judges' comments, which certainly show why Hawkshead Relish's products deservedly won their awards:
· Smoky Mustard Sauce: ''This mustard is piquant and fiery, and the acidity leaves you salivating.''
· Spiced Mango Ketchup: ''A really well-made blend of flavours that just ticks all of the boxes.''
· Sour Cherry and Prosecco Jam: ''The splash of prosecco gives it an interesting deep ruby colour and perfect soft texture.''
Maria Whitehead co-owner of Hawkshead Relish commented: ''With 2020 being such a challenging year it is fabulous to finally receive some good news, with no less than eleven stars over 8 winning products at the Great Taste Awards to add to our haul, we are beyond thrilled. It's wonderful to receive the judges feedback too especially as we decided to enter three products from our new sauce range, which we launched earlier this month, happily they were all awarded Great Taste awards, which is just fantastic, especially as the whole team here have worked so hard, it's a huge pat on the back for us all to receive so many awards this year."
ENDS
Editors Notes:
1/ For further information about Hawkshead Relish or to place an order visit: www.hawksheadrelish.com
2/ For press queries please contact Greg at Gundog PR by emailing info@gundogpr.co.uk or by calling 07825511896
25th September 2020

Kath Heaton