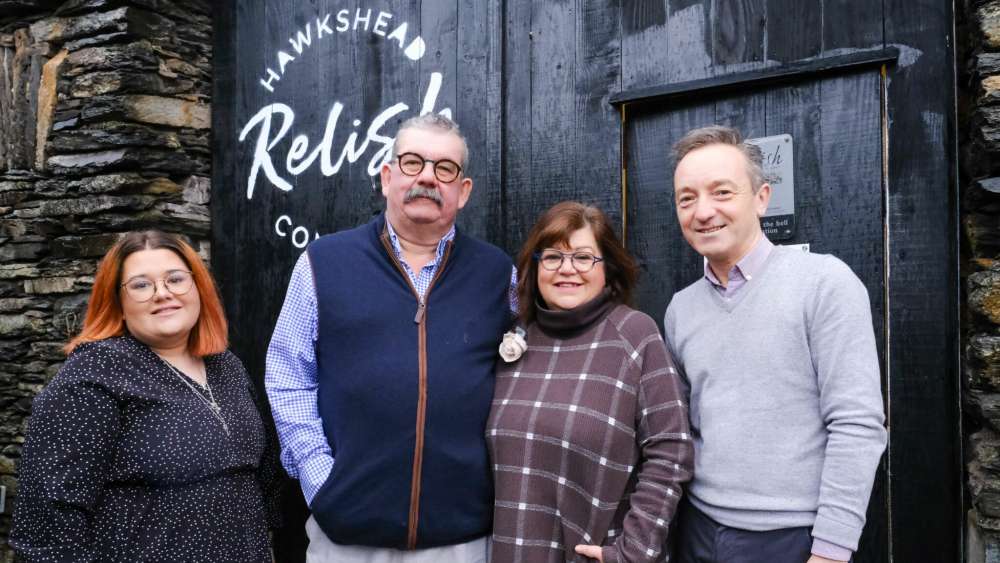 Hawkshead Relish appoint new Managing Director
Hawkshead Relish appoint new Managing Director Almost 25 years after founding the business, husband and wife Mark and Maria Whitehead MBE have decided to entrust the running of their award-winning preserves company to a new generation.
The multi-award winning Hawkshead Relish brand has become synonymous with the Lake District over the years, tasted by many during a visit to England's favourite national park. The couple behind the business have dedicated themselves to its success since selling their first jar of relish in 1999, and in recent years have been working to implement a succession plan to ensure the future of the company beyond themselves.
Current General Manager, Jonathan Robb has been appointed as the new Managing Director of The Hawkshead Relish Company. Jonathan will continue to work closely with both Mark and Maria alongside their daughter Izzy Whitehead, who is the Brand Manager and a fellow Director of the business.
Speaking about the transition, Maria Whitehead MBE said, "Since Jonathan joined the business eight years ago, he's really embraced it and has become one of the family. He completely understands our vision and where we want the business to go."
Jonathan's step up was a natural progression and part of our longer-term plan, allowing Mark and I to step away from the day to day running of the business. Since the pandemic, both Jonathan and Izzy have taken on more responsibility and been heavily involved in strategic decision-making. Working as a team of four has proved to be a great success, and we decided the time was right to formalise our plans."
Hawkshead Relish work closely with specialist family business advisors at The Family Business Community, and Co-Founder Sue Howorth commented, "The family have worked hard to put in place a robust succession plan for the business that not only gives them continuity as a family, but also helps to develop and support the new generation in the business."
Hawkshead Relish currently produce a range of over 100 handmade products from their production premises near Esthwaite Water, including their classic Westmorland Chutney and their innovative, best-selling Black Garlic Ketchup. With over 80 Great Taste awards to their name, this family run business pride themselves on the quality of their products along with a helping of great customer service.
Maria added, "We're really proud of the great team we have at Hawkshead Relish and with Jonathan at the helm, we know it'll be in capable hands! We'd like to congratulate Jonathan and we look forward to watching him grow the business into the next generation."
23rd January 2023

Steve Gosling