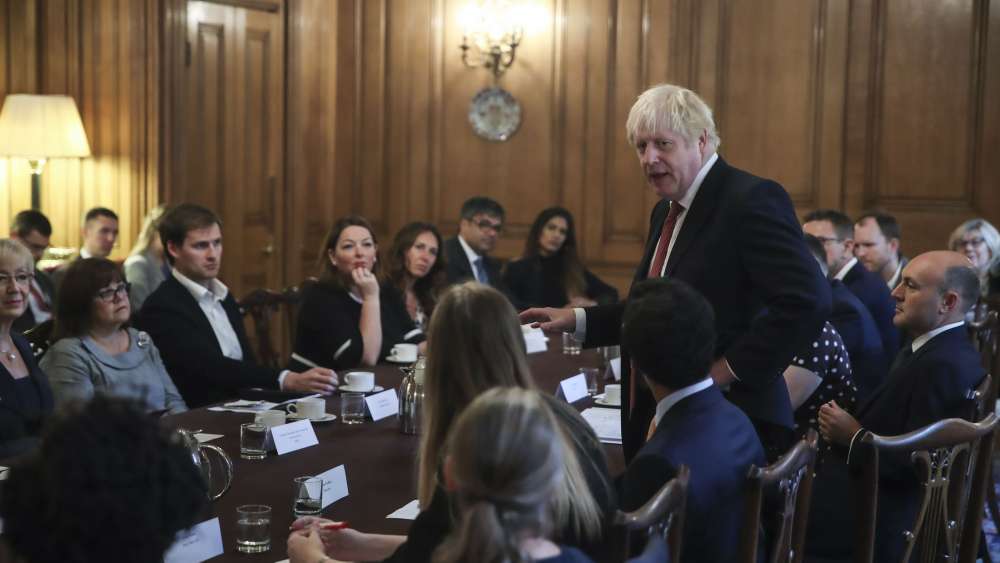 Cumbrian business leader attends No 10 for meetings with the Prime Minister
Cumbrian business leader attends No 10 for meetings with the Prime Minister
Maria Whitehead, co-owner and director of Hawkshead Relish, and a number of other small business owners and entrepreneurs from a range of business sectors across the UK, including tech, retail and manufacturing, met with The Prime Minister Boris Johnson and Business Secretary Andrea Leadsom on Tuesday 10th September at No 10 Downing Street.
The parties met to discuss ways of helping small businesses to start and grow. During the meeting the Prime Minister outlined his desire to build a dynamic, vibrant culture for start-ups, small businesses and entrepreneurs in the UK, which would include bringing gigabit broadband speeds to everyone and creating a tax environment to stimulate growth.
Maria and her business colleagues outlined a number of ways in which help could be given to boost the growth and productivity of small enterprises, including effective ways of tackling late payments, providing export opportunities and improving the skills and education of young people starting out in business.
Tuesday 17th September, saw Maria return to No 10, to attend an evening business reception held by The Prime Minister, with Chancellor of the Exchequer Sajid David and Chancellor of the Duchy of Lancaster Michael Gove and 50 fellow business leaders from across the UK.
Maria attended in her capacity as a representative of Be The Business, a group of like-minded business leaders from across the UK, who are committed to sharing ideas and learning to address the productivity and underperformance of UK businesses.
The group established in 2017, has already established a national business mentoring programme is partnering with businesses, schools and industries to make executive education more accessible and is uniting localised business communities to share knowledge and to learn from each other.
During the reception the assembled parties discussed a number of business concerns including potential issues relating to trade tariffs, supply chain, infrastructure and downturn in export due to current uncertainties and options for business growth in existing and new export markets. When asked about Brexit by those present, the Prime Minister outlined that he was determined to back business and support growth for the future. The ministers also mingled with the assembled business leaders and expressed their aims and ambitions for the future of UK business.
Talking about both of her visits to No 10 to meet with the Prime Minister and senior Government Ministers, Maria Whitehead MBE, co-owner of Hawkshead Relish, said: "There seems to be a real determination in government to make the UK home to the most ambitious businesses in the world. That said it is essential that they listen to businesses of all sizes. On both occasions Ministers expressed their desire to address ways of increasing revenue, reducing costs, acquiring new customers and entering new markets - things that UK businesses of all sizes are concerned with. Obviously there is considerable uncertainty at the moment and with that in mind I'm extremely proud to have had the chance to represent Cumbria, and in particular the food and drink sector at these high level meetings and to have had the opportunity to put across the problems and very real concerns of businesses in the rural North West.''
ENDS
Editor's Notes:
1/ For further information about: Prices, Stockists visit: www.hawksheadrelish.com email: info@hawksheadrelish.com or telephone 015394 36614.
2/ For press queries please contact Greg at Gundog PR by email info@gundogpr.co.uk or call 07825511896
History & Ethos Of The Business.
The Hawkshead Relish Company is a renowned artisan producer of award-winning preserves ranging from jam to chutney, mustard to mayonnaise and sauces to savoury jellies.
Based in the heart of the English Lake District; the distinctive range boasts the finest locally sourced ingredients, handmade without any artificial colourings, flavourings or preservatives. All are free from gluten and nuts, as well as being suitable for vegetarians.
Small considered batches are cooked up in open pans by a dedicated and passionate team, whose pursuit of excellence is testimony to these unique speciality preserves.
Hawkshead Relish has become synonymous with the art of culinary excellence, supplying retail, gift and food service alike. Holding over 60 'Great Taste' Awards and a 'Speciality Producer' Award from the Guild of Fine Food.
With over 100 innovative products the range inspires culinary creativity and adds regional originality to an array of global cuisines.
26th September 2019

Izzy Whitehead