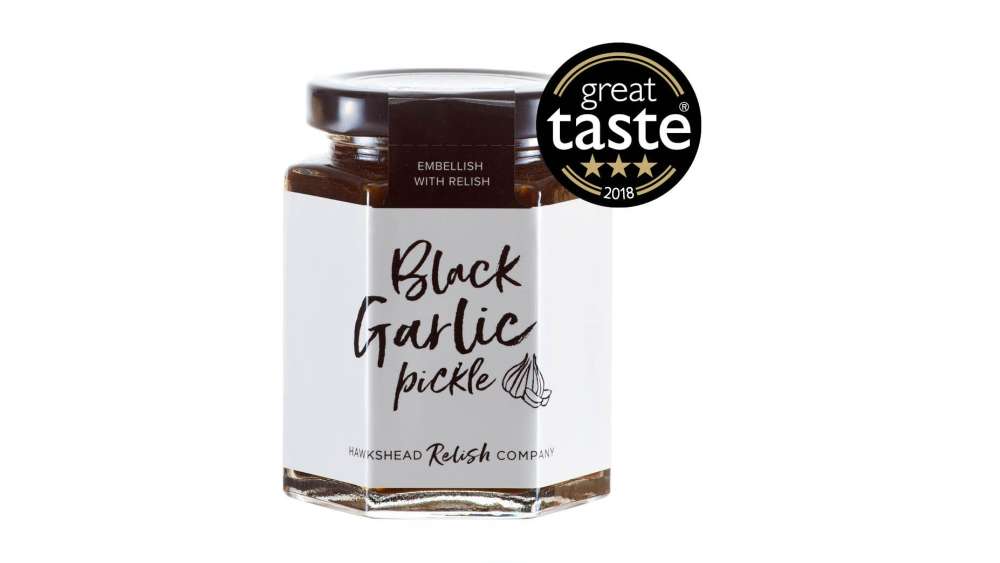 3 Star Great Taste win for Hawkshead Relish brings total to over 60 awards.
Announced today, Hawkshead Relish have once again triumphed at the Great Taste Awards adding another 5 awards to their prestigious collection. The NEW Black Garlic Pickle collected the highest star rating for an individual product, which takes their total to over 60 Great Taste Awards to date.
The judges said the 3 star winner was a 'gorgeous balance of complex flavours, tangy, sweet and spicy with just the right amount of heat.' The Black Garlic Pickle is the company's newest addition to their 'Black Garlic Range' after launching their world food innovation award winner 'Black Garlic Ketchup' in April 2017. The company have decided to make the Black Garlic Pickle available for sale now as a result of this award, however it will be officially launched in September at the Speciality Fine Food Show.
Hawkshead Relish also collected four 1 star awards for their Mulled Damson & Port Jam, Hot Garlic Pickle, Raspberry & Vanilla Jam and New product Sri Lankan Lime Pickle which is also due to be launched in September.
Maria Whitehead MBE said – "Having judged at the Great Taste Awards in previous years, we know how tough the competition is which makes us even more delighted to pick up these awards and especially to get the 3 star is just fantastic".
Great Taste, which is organised by the Guild of Fine Food is the acknowledged benchmark for Fine Food and Drink. Over 500 judges from all corners of the food world came together over 65 blind-taste judging days for the 2018 awards. With 12,634 entries and only 193 Three Stars being awarded they look for truly great taste, texture, appearance, ingredients and aroma regardless of packaging or branding.
Black Garlic Pickle 200g - £20 per case (6x200g) RRP £4.99
For wholesale enquiries, please contact sales@hawksheadrelish.com and for PR enquiries please contact pr@hawksheadrelish.com.
www.hawksheadrelish.com 015394 36614
17th October 2018

Ben Wilson