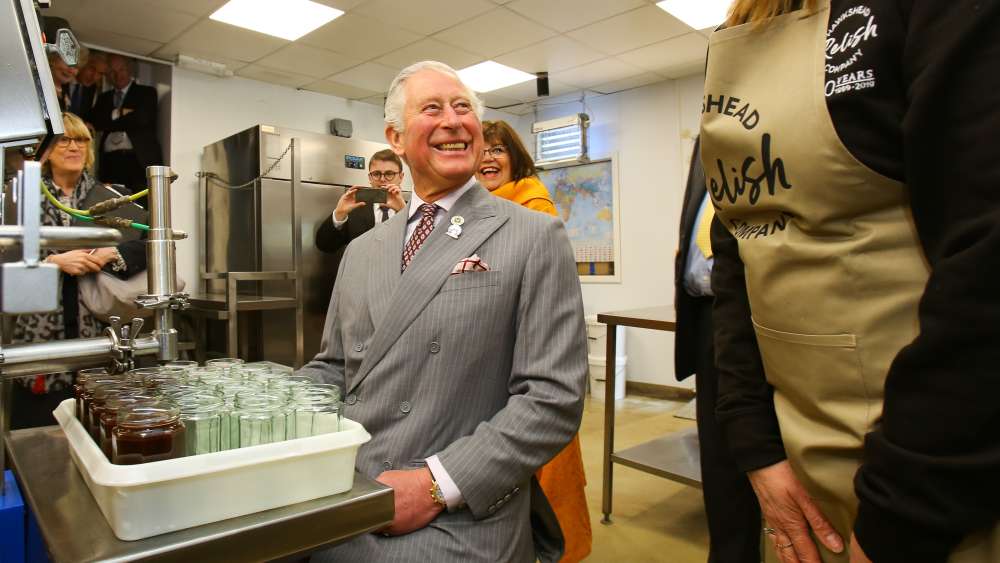 20th year in business marked with Royal visit
His Royal Highness arrived at Hawkshead Relish's production facility located at Esthwaite Old Hall, just after 4pm, where he was greeted by owners Mark and Maria Whitehead and their daughters Abigail and Isabella, who then conducted The Prince and his party on a tour of the company production facilities.
During his time at the renowned artisan producer of award-winning preserves, jams, chutneys and condiments The Prince met kitchen assistant Catherine Watson, whilst working in the development kitchen preparing herbs for batches of product.
His Royal Highness later met sales manager Jonathan Robb, who talked about the products on display in the company showroom, the numerous awards the company has received before trying some Damson Jam. The Prince of Wales then spent some time discussing the sympathetic reconfiguration of the original 16th century barn in which the company has its headquarters.
The Prince of Wales then visited the production kitchen at the heart of the operation, where His Royal Highness was introduced to Alison Townley, who demonstrated product depositing and invited The Prince to assist in depositing Westmorland chutney into jars. Mark Whitehead then showed His Royal Highness a batch of Westmorland chutney in the production kitchen and talked to The Prince about the processes involved in production cooking.
His Royal Highness then entered the warehouse facility, where he was introduced to Thomas Seddon, who explained the company's warehousing and distribution process. The party then proceeded outside to a marquee, where The Prince of Wales was presented to the assembled guests and invited to unveil a commemorative plaque marking the occasion of his visit.
The Prince of Wales thanked the assembled guests and said a few words before unveiling the commemorative plaque. He remarked; ''I have very much enjoyed meeting all of the staff and everyone who works here.'' He added in light of hearing about the strength of family businesses in Cumbria; ''the fact that there are so many other smaller family businesses operating here as I've discovered from the Family Business Network. A new discovery today, I am so glad to see that Cumbria is leading the way as so often in these sorts of diversified businesses. I can only wish Hawkshead Relish and the Whitehead family every possible success for the future.''
After which His Royal Highness was presented with a small gift hamper containing a selection of award winning Hawkshead Relish products by Abigail Whitehead and Isabella Whitehead. In addition, The Prince of Wales was also presented with a set of specially commissioned wine glasses, handmade in Hawkshead, by artisan glass maker Emma Mackintosh, as a lasting memento of The Prince's visit to Hawkshead Relish Company.
8th April 2019

Matt Shearing